FLAGSHIP PROGRAM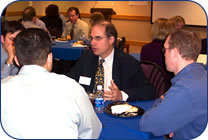 CBB is best known for its Flagship Program. The program:
Brings together emerging civic leaders
Educates them on our diverse community
Teaches leadership skills
Provides opportunities for practicing those skills
Develops networks for participants
Creates a bond through common experience
Participants benefit from being a part of a class that brings diversity of race, ethnicity, religion, profession and socio-economic background to the table. Most importantly, CBB builds a bridge between future and current leaders of the community, creating true intergenerational relationships among leaders.
The program is comprised of five full-day sessions and a day and a half opening retreat. It is spread over a nine-month period from October to May and ends with a graduation ceremony in June. Each session focuses on a specific leadership skill:
Leadership styles
Diversity management
Visioning and strategic planning
Collaborating
Dynamics of power
In addition to the sessions, participants work on team-based Leadership Action Projects (LAPs) in partnership with community leaders and institutions. These projects focus on addressing meaningful civic issues. (To find out more about LAPs and see what projects that Class of 2005 are working on, please click here).
Jacquie McLemore, principal of Brinegar & McLemore Consulting and a change-management expert, serves as Program Facilitator. She provides the "glue" to the program, tying together the leadership skills with the concepts discussed and implemented. Jacquie also challenges participants to realize and develop their own leadership qualities through an extensive Leadership Portfolio.
In addition, CBB has partnered with Business Volunteers Unlimited ("BVU") to allow participants to take part in BVU's Volunteer Training Institute and its highly regarded Role of the Board seminar. All graduates are offered the opportunity to be placed by BVU on a non-profit board of trustees.