FIFTH ANNIVERSARY INITIATIVES
This page is your online resource to everything that is going on about CBB's Fifth Anniversary! Check back frequently for meeting notes and other news.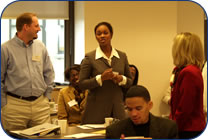 The Fifth Anniversary Initiatives are:
Impact Study – looking at what CBBers have done in this community and what CBB's overall impact has been in 5 years
Alumni Retreat – creating a unique learning opportunity for Flagship Alumni
Awards – recognizing the individuals who supported CBB's evolution and the initiatives and organizations that represent CBB's mission and values
Fun(d) Raiser – partying with friends in honor of CBB's accomplishments
Leadership Summit – celebrating effective intergenerational leadership
Upcoming Meetings and Useful Information:
The Impact Study is complete! To learn more about it Click Here.
Alumni Retreat – November 11-12, 2005
Our time is Now. We are the ones we've been waiting for. Find out more here about the alumni retreat.
Awards – The Awards team issued the first CBB Alumni Award to Lynnette Jackson (Charter Class) at the Class of 2005's graduation this past June. The award is given to the individual that embodies the guiding principles of CBB. Congratulations, Lynnette! The team will reconvene to solicit and review nominations for the 2006 Alumni Award to be presented in June 2006.
Fun(d) Raiser – This innovative, collaborative 5-year celebration is co-chaired by Christy Frederick and Colette Taylor. The event is scheduled for June 2006 and will be held in partnership with Art House.
Leadership Summit – Get involved with Cleveland Next and help us prepare thoughts for the Intergenerational Leadership Summitt that will take place in 2006. Learn more about e Cleveland Next here.
If you are interested in learning more, or becoming involved in the planning for one of these initiatives, please e-mail us with your questions or interest.