ABOUT US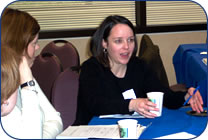 CBB builds leaders for our community's future by providing leadership training and development, serving as a leadership resource for the community, and by embracing inclusive and connective leadership.
MISSION
To build a continuum of leaders and leadership practices that effectively shapes the future of our community.
VISION
To develop a thriving region that inspires globally.
GUIDING PRINCIPLES
To be impacting, proactively seizing opportunities to make a difference; to be inclusive, meaningfully collaborating to reflect the diversity of our community; and to be inspiring, empowering people to be leaders.
STRATEGIC GOALS
Identify, train and channel emerging leaders
Establish CBB as a leadership resource and a catalyst for achieving results through collaboration
Ensure the health and sustainability of the organization