PROGRAMMING & EVENTS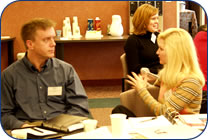 CBB provides an array of leadership development programs for individuals wishing to make change through civic work. They help participants learn new skills, build networks and positively impact the organizations they serve. CBB's program offerings include:
Flagship Program – CBB's best-known offering, it is an intensive nine-month leadership skill building curriculum.
Leadership Lifeline Programs – these half-day programs focus on applied leadership skills and provide practical experience.
Cleveland 101 Series – created in partnership with the City Club New Leaders, the series introduces the city's history and challenges of urban renewal.
Summer Associates Program – a half-day program to introduce interns to the young-professional landscape in Cleveland and valuable civic leadership concepts.
Art of Leadership – a three-day training on organizational and personal skills necessary for lasting social change.
CBB is committed to helping you improve your leadership skills through its programming. Each and every session of CBB provides unique benefits to you, the participant.
Benefits of all CBB Programming Opportunities:
Developing of a broad and diverse network of young and passionate civic leaders.
Developing strong personal relationships.
Building a versatile resource of tangible, solution-oriented techniques for implementing key leadership skills in everyday situations.
Collaborating to address civic issues with others who share your passion and commitment to bettering the community.
Access to community resources and advanced learning opportunities.